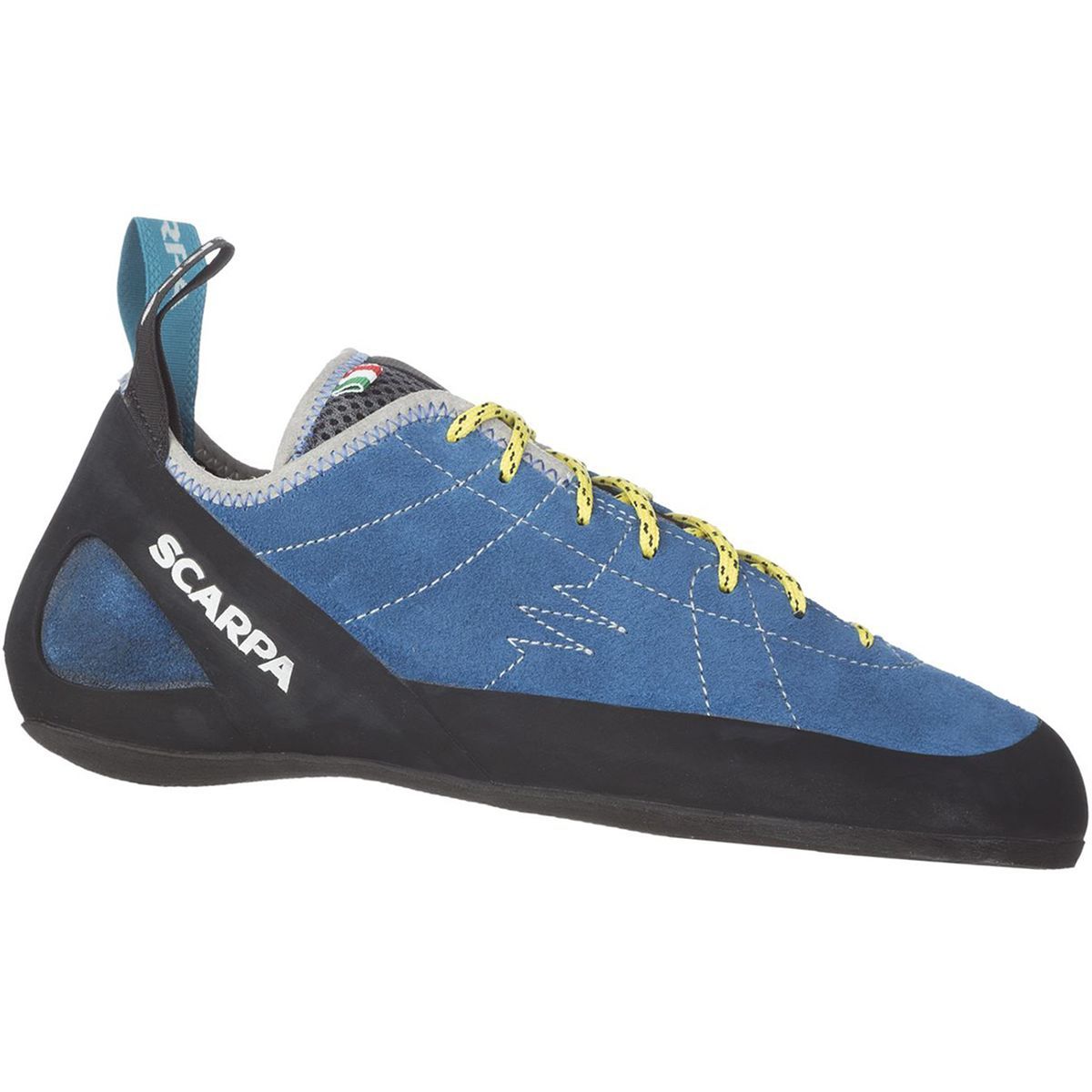 See the product page
The Scarpa Helix Climbing Shoe is an excellent option for climbers seeking an all-round, comfortable shoe that delivers a fantastic balance of performance and ease of use. Its comfortable fit, durability, and versatile design make it a great option for climbers of all levels.
Pros ​
Right off the bat, the Scarpa Helix Climbing Shoe distinguishes itself with its focus on comfort. The shoe's soft leather upper and padded tongue ensure a snug and cozy fit, while the Vibram XS Edge rubber sole provides excellent grip and durability without compromising sensitivity. The low-asymmetry design and passive randing make it easy for climbers to maintain foot comfort during long sessions or multi-pitch climbs. Its versatility is another major plus, as the Scarpa Helix performs admirably on a variety of climbing surfaces and styles, from slabs and vertical faces to cracks and moderate overhangs. Its quality construction and durable materials also ensure that it will withstand the test of time.
Cons ​
While the Scarpa Helix Climbing Shoe has many positive aspects, it may not be the best choice for aggressive climbers who require a more downturned, performance-focused shoe. Additionally, the leather upper may stretch over time, so it is essential to consider the potential for a slightly looser fit when choosing your size. Finally, some climbers may find the lacing system to be somewhat time-consuming compared to Velcro or slip-on alternatives.
Overall ​
In conclusion, the Scarpa Helix Climbing Shoe is a comfortable and versatile choice for climbers who value a well-rounded shoe. Its cozy fit, durable construction, and adaptability across various climbing styles make it a worthwhile investment. While not the best option for highly aggressive climbing or those seeking a quick on-and-off shoe, the Scarpa Helix is an excellent choice for climbers of all levels who prioritize comfort and versatility in their climbing shoes.
Key Terms ​
Scarpa Helix, climbing shoe, comfort, versatile, Vibram XS Edge, soft leather upper, padded tongue, low-asymmetry design, passive randing, durability, all-round, climbing surfaces, lacing system