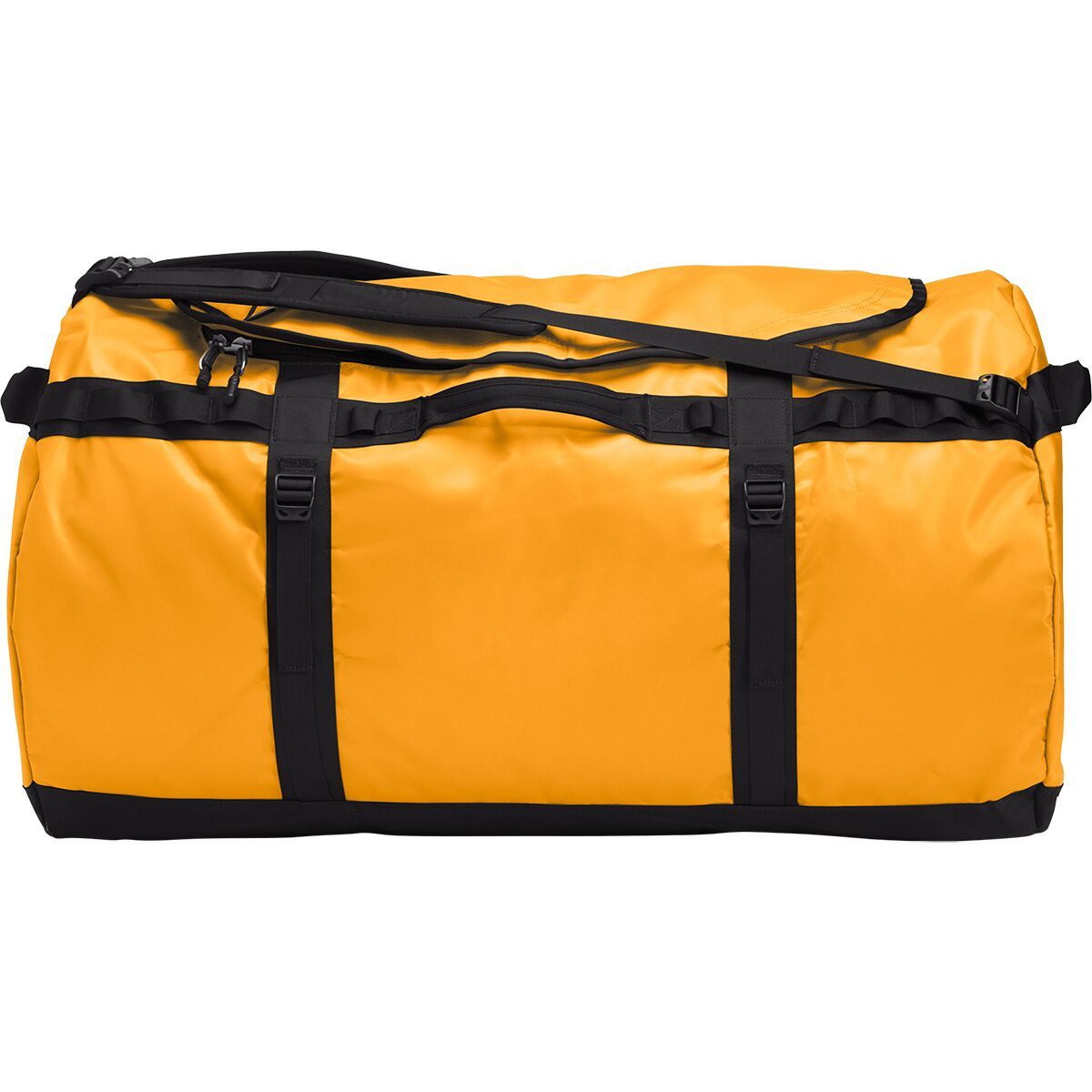 See the product page
The North Face Base Camp XXL 150L Duffel Bag is a versatile and rugged bag that offers an enormous amount of storage space, making it perfect for those who need to carry a lot of gear or travel frequently. Its durable construction and thoughtful design make it a fantastic choice for any adventure.
Pros ​
The North Face Base Camp XXL 150L Duffel Bag is an absolute beast when it comes to storage space, and I'm not exaggerating! I can easily haul all my padding gear, and still have room for clothes, shoes, and other essentials. The bag's rugged construction and water-resistant material make it a perfect choice for outdoor enthusiasts like me. I also appreciate the multiple carrying options provided by the detachable, adjustable, and padded shoulder straps, as well as the padded side handles. These features make it easy to carry the bag, even when it's loaded up with heavy gear. The duffel's various compartments and pockets help me stay organized during my trips, and the lockable zippers provide an extra layer of security for my belongings. The bag's durable and abrasion-resistant fabric ensures it can withstand the rigors of travel and outdoor activities, making it a long-lasting investment. It's also great for international travel, as it can easily accommodate everything I need for an extended trip.
Cons ​
While the North Face Base Camp XXL 150L Duffel Bag is a fantastic product, there are a few minor drawbacks worth mentioning. Its large size can be a double-edged sword, as it might be too big for those with limited storage space at home or who prefer to travel light. Additionally, when fully loaded, the bag can become quite heavy, which could be a concern for some users. Lastly, the price might be on the higher side for some budgets, but considering the quality and durability of the bag, it's a worthy investment.
Overall ​
In conclusion, the North Face Base Camp XXL 150L Duffel Bag is a top-notch product for anyone in need of a spacious, durable, and versatile bag for outdoor adventures, international travel, or just everyday use. While there are a few minor downsides to consider, they are far outweighed by the bag's numerous positive attributes. Overall, I highly recommend the North Face Base Camp XXL 150L Duffel Bag to anyone looking for a dependable and roomy duffel for their travels and adventures.
Key Terms ​
North Face Base Camp, XXL 150L, Duffel Bag, versatile, rugged, storage space, padding gear, international travel, durable construction, water-resistant, multiple carrying options, lockable zippers, abrasion-resistant, outdoor enthusiasts