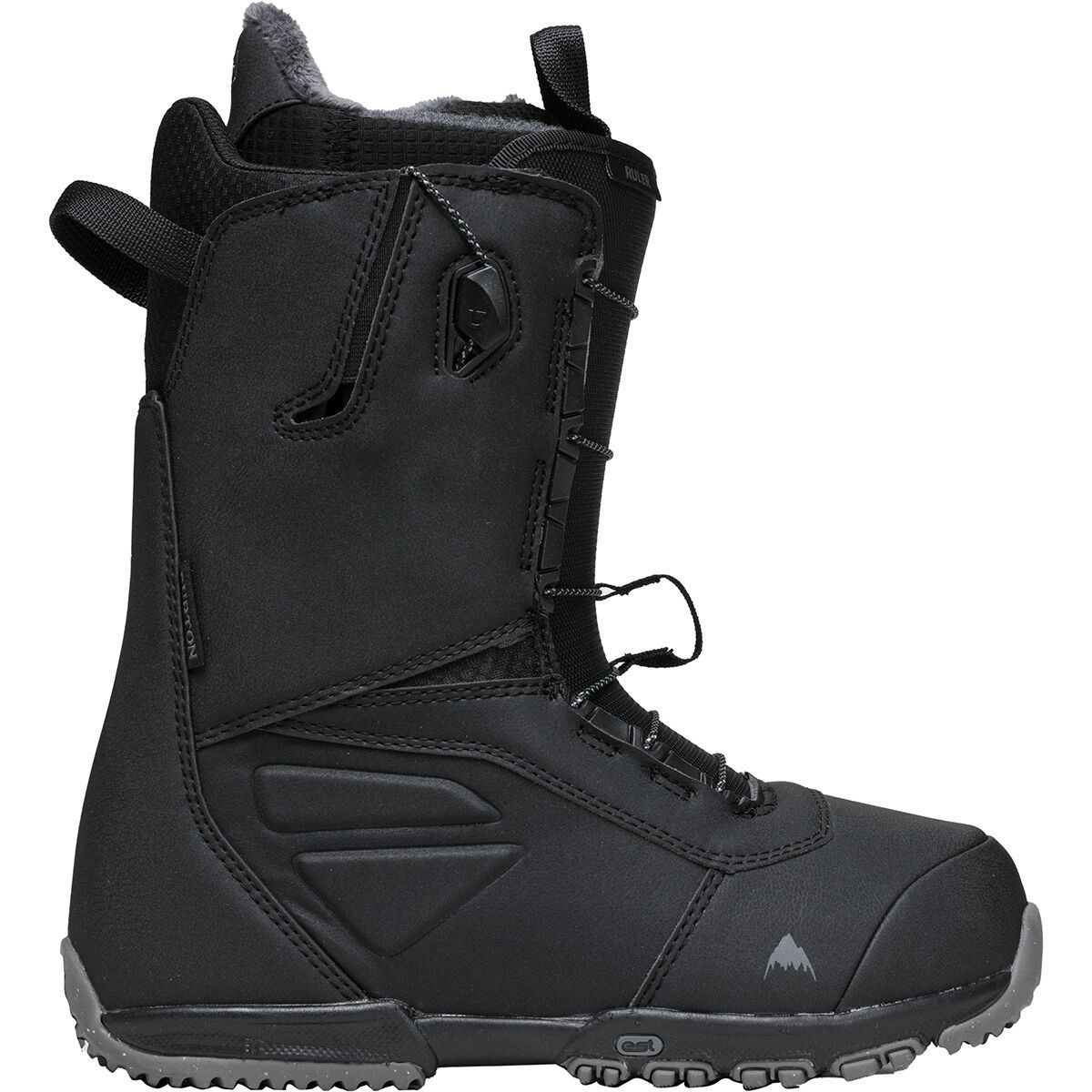 See the product page
The Burton Ruler Snowboard Boot is a versatile and comfortable all-mountain boot designed for riders of all skill levels. With its impressive support, innovative technology, and stylish design, the 2023 model is sure to be a hit among snowboarders everywhere.
Pros ​
The Burton Ruler Snowboard Boot - 2023 is packed with incredible features that cater to a wide range of riders. First and foremost, the boot is exceptionally comfortable. Its Imprint™ 2 Liner with 3M™ Thinsulate™ insulation keeps feet warm and cozy even in the coldest conditions, while the Man Fur lining adds an extra touch of plushness. The Total Comfort Construction eliminates the need for a break-in period, so you can hit the slopes in comfort right away. The boot's medium flex offers a great balance of support and flexibility, making it suitable for all types of riding styles and terrains. Additionally, the Speed Zone™ Lacing System allows for lightning-fast and precise adjustments, ensuring a secure and personalized fit. On top of that, the Ruler is equipped with B3 Gel cushioning in the sole for excellent shock absorption and minimized fatigue, and a lightweight EST® Outsole with recycled rubber content for increased traction and sustainability. Finally, the boot's sleek design and variety of color options make it a stylish choice for any rider.
Cons ​
While the Burton Ruler Snowboard Boot - 2023 is a fantastic all-around boot, it may not be the perfect choice for everyone. Advanced riders looking for maximum stiffness and support might find the medium flex to be a bit limiting. Similarly, some riders might prefer a traditional lacing system over the Speed Zone™ Lacing System. Lastly, the boot's price point may be a bit high for budget-conscious snowboarders.
Overall ​
In conclusion, the Burton Ruler Snowboard Boot - 2023 is an outstanding all-mountain boot that caters to a wide range of riders. Its impressive comfort, support, and innovative technology make it a great investment for anyone looking to up their game on the slopes. While there are a few minor drawbacks to consider, the overall performance and quality of this boot make it a highly recommended choice for snowboarders of all skill levels.
Key Terms ​
Burton Ruler Snowboard Boot, 2023, Imprint™ 2 Liner, 3M™ Thinsulate™ insulation, Man Fur lining, Total Comfort Construction, medium flex, Speed Zone™ Lacing System, B3 Gel cushioning, EST® Outsole, recycled rubber, all-mountain boot, comfort, support, innovative technology, snowboarders