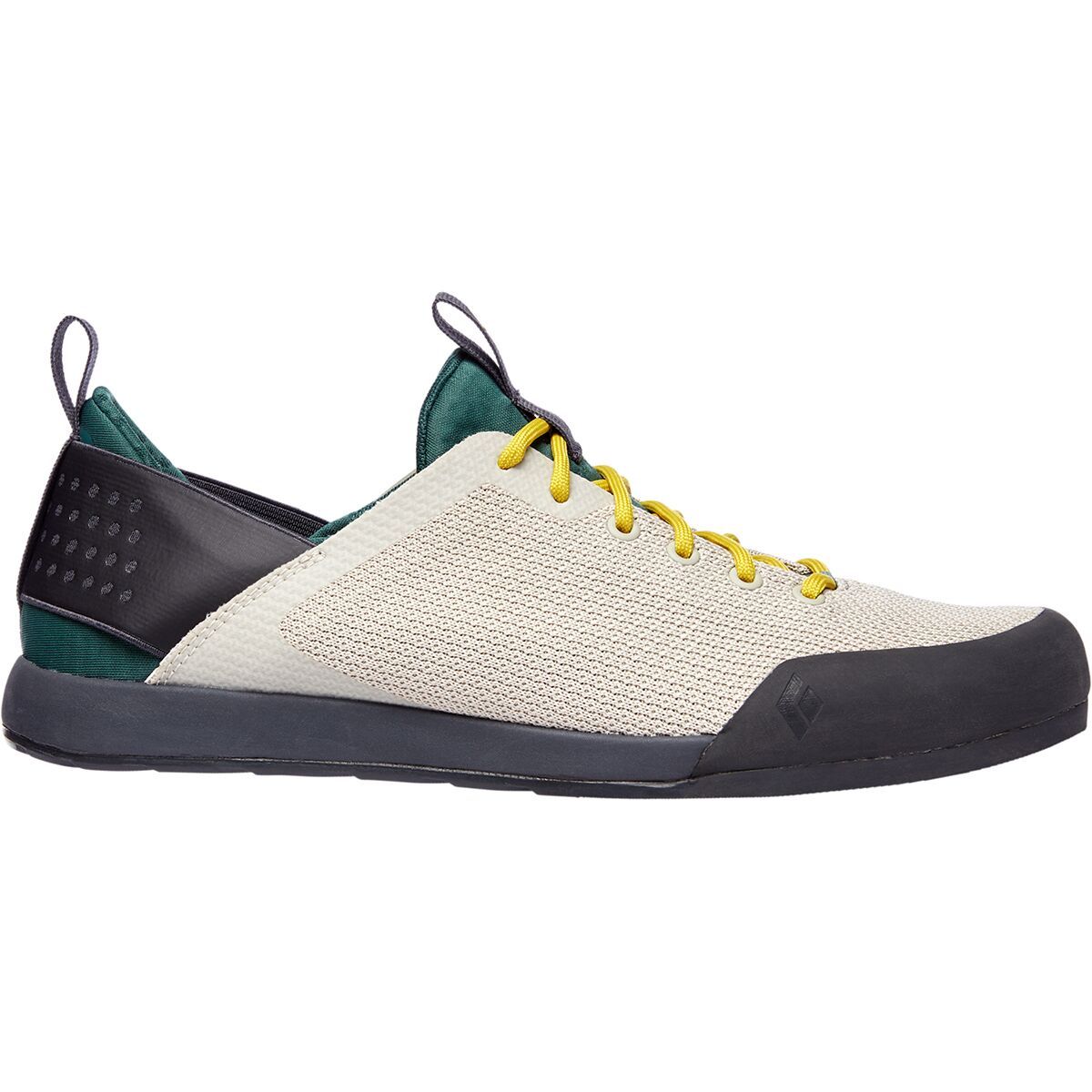 See the product page
The Black Diamond Session Shoe - Men's is a versatile, comfortable, and stylish shoe designed for anyone who loves adventure and demands high performance from their footwear. With its innovative design, excellent grip, and breathable materials, this shoe is perfect for climbers, hikers, and urban explorers alike.
Pros ​
The Black Diamond Session Shoe has a number of positive aspects that make it stand out from other shoes in the market. First and foremost, its unique design offers a perfect balance of comfort and performance. The stretch-fit, knit-upper material molds to your foot, providing a snug, glove-like fit that ensures your foot stays secure and comfortable throughout your day. Additionally, the shoe is highly breathable, keeping your feet cool and dry even in hot weather or during strenuous activities.
Another noteworthy feature of the Session Shoe is its excellent grip. The shoe's BlackLabel Street rubber sole offers superior traction on a variety of surfaces, making it ideal for rock climbing, scrambling, and hiking. Whether you're navigating slick city streets or scaling craggy cliff faces, the Black Diamond Session Shoe has you covered.
Aesthetically, the shoe is a winner too. Its sleek, modern design is both functional and fashionable, allowing you to seamlessly transition from the climbing gym to a night out on the town. The shoe is available in multiple color options, making it easy to find a pair that matches your style and personality.
Cons ​
While the Black Diamond Session Shoe is an excellent all-rounder, there are a few minor drawbacks worth noting. The shoe's sizing may run slightly small for some, so it is recommended to try on a pair in person or consider ordering a half size larger than your typical shoe size. Moreover, the knit-upper material, although breathable and comfortable, might not be as durable as more traditional materials in extreme conditions or under heavy use. Lastly, the price point could be a concern for budget-conscious shoppers, as the shoe is relatively expensive compared to some of its competitors.
Overall ​
In conclusion, the Black Diamond Session Shoe - Men's is a fantastic option for anyone seeking a versatile, high-performance shoe that can handle a wide range of activities. With its excellent grip, comfortable fit, and stylish design, this shoe is perfect for both outdoor enthusiasts and urban explorers. While there are a few minor drawbacks, such as sizing and durability concerns, the overall quality and performance of the shoe make it well worth the investment. If you're in the market for a new pair of shoes that can keep up with your adventurous lifestyle, the Black Diamond Session Shoe should be at the top of your list.
Key Terms ​
Black Diamond Session Shoe, Men's shoe, versatile, comfortable, stylish, innovative design, excellent grip, breathable materials, rock climbing, hiking, urban exploration, BlackLabel Street rubber sole, modern design, color options, sizing, knit-upper material, durability, price point