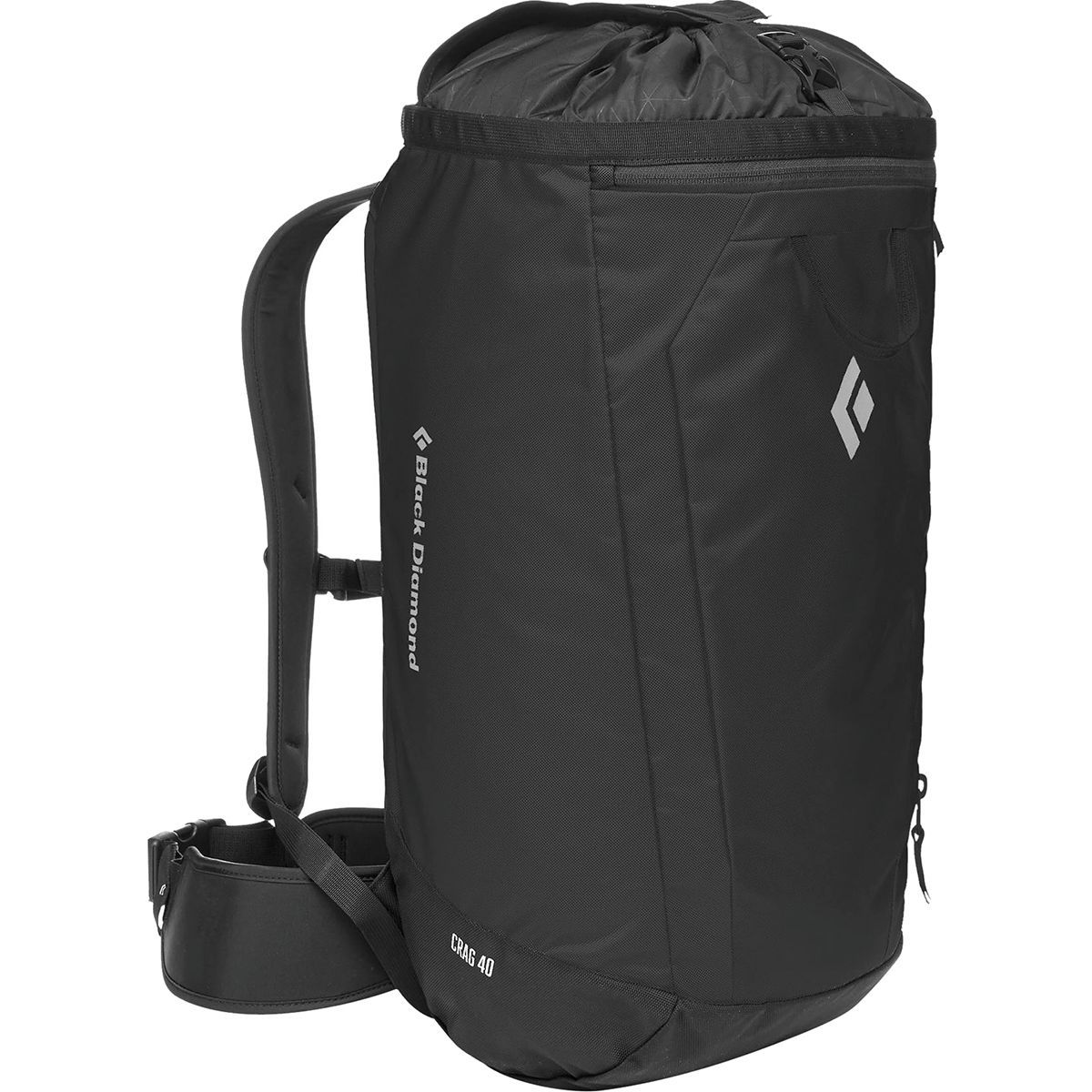 See the product page
The Black Diamond Crag 40L Backpack is a versatile, durable, and comfortable climbing pack designed specifically for rock climbers and alpinists. With its ample storage capacity, thoughtful organization features, and rugged construction, it is an excellent choice for anyone seeking a reliable backpack for their climbing adventures.
Pros ​
First and foremost, the Black Diamond Crag 40L Backpack is an incredibly well-thought-out climbing pack that offers an array of fantastic features. One of the most noticeable attributes is its generous 40-liter capacity, making it perfect for day trips or multi-day excursions. The pack is also versatile enough to accommodate both sport climbing and trad climbing gear, thanks to its customizable and removable internal divider. The side zippered access allows for easy retrieval of gear, while the top-loading design ensures that your belongings stay secure during your climbs.
Comfort is another strong suit of this backpack. The contoured shoulder straps and padded hip belt provide excellent support and weight distribution, making it easy to carry heavy loads without feeling weighed down. Additionally, the thermoformed back panel offers excellent ventilation, ensuring that you stay cool and dry on those long, hot climbs.
The Crag 40L Backpack is also incredibly durable, with its robust 840-denier nylon construction and reinforced high-wear areas. This means you can trust this pack to withstand the rigors of the climbing environment, from rocky approaches to sharp climbing gear. The external attachment points for ice axes and other tools add to the pack's functionality and convenience, while the integrated rope strap keeps your rope secure and easy to access.
One of the standout features of the Black Diamond Crag 40L Backpack is its organization capabilities. The pack offers a variety of pockets, including a zippered top pocket for smaller items, a spacious main compartment, and a dedicated pocket for your climbing shoes. The internal gear loop and zippered mesh pocket make organizing your gear a breeze, ensuring that you can quickly find what you need when you need it.
Cons ​
While the Black Diamond Crag 40L Backpack is a fantastic climbing pack, there are a couple of minor drawbacks to consider. Some users may find the pack to be a bit on the heavy side, especially when loaded with gear. However, given the pack's durability and comfort features, this trade-off may be worth it for many climbers. Additionally, the pack's aesthetics might not suit everyone's taste, but this is a minor concern when compared to the backpack's overall performance and utility.
Overall ​
In conclusion, the Black Diamond Crag 40L Backpack is a top-notch climbing pack that offers a winning combination of comfort, durability, versatility, and organization. Despite a few minor drawbacks, the pack's exceptional features make it a must-have for any serious climber or alpinist. If you're in the market for a reliable and well-designed climbing backpack, look no further than the Black Diamond Crag 40L Backpack.
Key Terms ​
Black Diamond Crag 40L Backpack, climbing pack, rock climbers, alpinists, ample storage, durable, comfortable, sport climbing, trad climbing, gear organization, thermoformed back panel, rope strap, ice axes